Blog
Things to Consider While Choosing an E-learning Vendor
The organizations with limited budgets hire eLearning vendors to develop their own eLearning teams. Thus, they build courses that are totally adjusted to particular corporate needs.
Hire the Right eLearning Specialist
Over the last decade, eLearning has experienced rapid growth. Of course, designing and developing eLearning for corporate purposes is not an easy job to do. The difficulty is determined by the involvement of such experts as Instructional Designers, eLearning developers, SMEs (Subject Matter Experts), and graphic designers, which requires additional costs. This is the reason why many organizations cannot afford this business approach. Luckily, there are eLearning vendors that have teams of experts developing effective online learning instruments.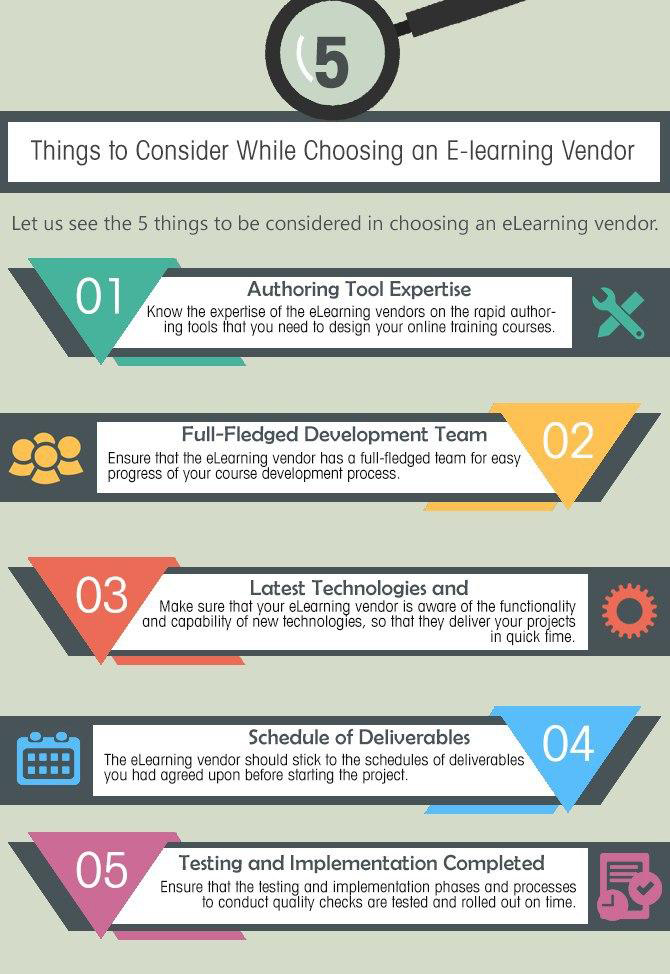 Choose the Right eLearning Vendor
While there are lots of eLearning vendors on the market, not all of them are reliable and trustworthy. There are three things you need to do before choosing an eLearning vendor.
Make sure that they have the relevant expertise in eLearning. Pay attention to the eLearning vendor's major business orientation. If it is eLearning, then feel free to work with them. If it is a part-time or side business, then continue your search. After all, you want the vendor to fully concentrate on your project by implementing the whole spectrum of available instruments.
Find out more about their development process. Have a look at the process of eLearning development suggested by the particular eLearning vendor. Also, make sure that there is a dedicated Project Manager who takes responsibility for your project from the beginning to the end.
Review their samples and testimonials. Check out some samples of the previous work completed by the particular vendor before you actually start your cooperation. Also, you can check out the reviews and testimonials left by other customers on the independent sources. It won't hurt to ask them to name some organizations they've worked with earlier.
Start Effective Work Your eLearning Vendor
Once you are done with your choice, you need to make sure that you agreed on all aspects of your cooperation. Here's how you can do that:
We've got everything to become your number-one helper out there.